Last updated: 10th August 2023
Over the past few years, geodesic domes have been favoured for their lightweight, flexible, and cost-efficient qualities for various outdoor purposes such as greenhouses, storage buildings, garden offices and even dome homes. To make it better, the market has incorporated the sale of geodesic dome kits that allow customers to build their DIY geodesic domes in the comfort of their own home.
These dome kits typically include all the necessary materials with struts and geodesic dome connectors to help customers build their own geodome without the cost of additional labor.
The strength and longevity of geodesic dome kits will vary depending on the materials, such as geodesic dome connector pvc or geodesic dome connectors wood.
Read on for our list of favorite geodesic dome kits:

The Hubs Geodesic Dome Kit is a good example of a DIY assembly product of a geodome. It comes in a box, specifically consisting of a detailed set of instructions, 26 hubs, 150 ball connectors with a complete set of screws and metalwork.
Also, Hubs, the brand behind this product has created the geodesic dome kit with fun and reliability in mind by building the framework of the dome with stainless steel metalworks along with automotive-grade, UV resistant plastic.
Hubs Geodesic Dome Kit – Full review here!
If you are considering purchasing this item, bear in mind that the kit does not come with sticks. However, this can allow you to put your versatility into your dome and allow you to make versatile decisions on stick materials if your choice depends on the purpose of your dome and budget.
Verified buyers of these products especially love the ease of construction this kit has to offer to make it a perfect, stimulating project to do with your kids. Even if you don't have kids, most adults agree that the project itself is a fun, relaxing activity to do.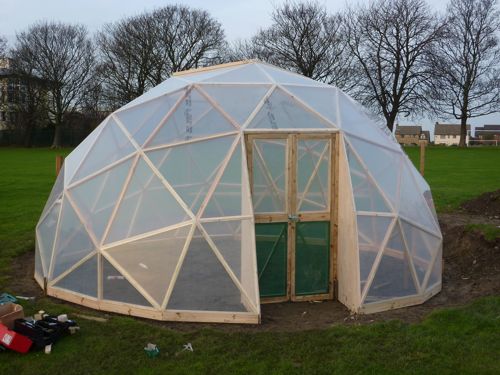 The quality of the framework is also worthy of appraise and overall the completed dome has a good design that earns its place in all available spaces. Most customers have no further issue to provide the sticks for the completion of the dome, which again, do not come with the kit, and many opted for broom shanks and PVC pipes.
Although the Hubs Geodesic Dome Kit is sturdy enough for most outdoor uses, customers should be well-informed that they are mostly done on small scales. Therefore, this kit is ideal as a fun project, kid gyms or a dome for smaller scaled gardening or storage.
A bonus mention on this list is the Natural Frequency Connectors kit. This is not a full kit but in case you just need the connectors for a smaller project, it's a good option.
The Ekodome DIY Geodesic Dome Kit is a product with a complete set of a geodome frame, hub connectors and sealing components that will allow you to build your geodesic dome.


Inspired by naturally occurring lattice-shell domes, this geodesic dome Kit is a state-of-the-art half-spherical structure constructed from exceptionally high-quality materials.
The construction of your geodesic dome will also be well guided through a concise and detailed instruction manual, which will be included in the kit along with hub connectors, door frames, rubber seals, strut caps, screws, and other building materials. The brand provides different sizes for the geodesic dome framework created with the help of a patented aluminum strut design.
In terms of functionality, the Ekodome DIY Geodesic Dome kits are sturdy enough for tough practicalities and are resistant to changing weathers throughout the year.
You can easily transform the Geodome kit into a greenhouse by installing glass panels onto its framework and repurposing the fixtures to install auto-activated vents. Or if you are slightly adventurous, you can utilize the Geodome kit for entertainment spaces and a cool spot for camping.
If you are looking for extra space for storage, fret not, for the kit is relatively cheap and easy to maintain the building to fulfill the purpose.

Customers who purchased this kit are happy with its easy assembly and space-efficient features. Its level of sturdiness is also noteworthy as it is virtually weather-resistant when equipped with a cover.
With the advantage of being excellent at providing insulation, it is the ideal choice for a greenhouse at nearly half the cost. To top it off, customers simply love the kit because the design looks contemporary and modern.
The Ekodome DIY Geodesic Dome Kit Prices
The prices start at $909 with for an Ekdome Seed (Frequency: 1V) that provides 9.18ft diameter, and a diameter of 9.14 ft / 2.78 m. Transparent panels are available as well as all the necessary accessories to build a completely functional geodesic dome.
With its innovative design and functionality, the price is worth it for its durability if it is within your budget. For customers who are looking for a geodesic dome with extra cash to invest in but do not want to deal with the hassle of buying separate struts or sticks, this product is for you.
Customers Reviews:
Overall, customers are thrilled with this product. Here are a few testimonials of people who already bought an Ekodome kit:


Pacific Domes
Pacific Domes is an award-winning company, recognized for excellence in manufacturing geodesic dome kits for special or commercial events. They received a prize several times from IFAI (Industrial Fabrics Association International). The quality of their products is doubled by a quite long history: they have been on the market for over 40 years.

Pacific Domes kits can be used to create a large variety of domes, ranging from eco-friendly dome homes to greenhouses, educational centers, event domes or other type of energy efficient structures. This manufacturer has an impressive list of clients, including Sony, Google and even NASA!
Here is a brief overview of their main products:
Dome Homes
At the forefront of ecological living, they are designed to be customizable for all kinds of weather. They can be insulated to match local climate conditions. Whether you want to build a home, a studio, a glamping dome, or portable shelter, they will fully serve your needs.
These Geodesic Dome kits come in sizes from 16 to 36 ft. They have a shelter cover and a bay window to enjoy good views from. With a frame of galvanized steel, this structure can bear really heavy loads. Depending on the sizes, the number of windows ranges from 4 to 12 round, removable 2 ft. windows.
All packages come with instructions which make it easy to set up a DIY geodesic dome home. With a lot of custom options to meet your needs, the Dome Home kit has your back.
Life Giving Greenhouse Domes
Eco-friendly and versatile, these domes are very useful for various growing needs.
In fact, they can be used and have been used for these purposes:
Aquaponics
Algae Production
Mycoculture
Bee Havens
Vermiculture
Trim and Drying Rooms
Organic Food and Herb Production
With these possible specialized options, you are sure to find a configuration that suits your agricultural purposes. This DIY geodesic dome can suit your specific needs, whether you want to use it for your backyard, community, or for industrial use.
With a frame of galvanized steel tubes and hardware, this Geodesic Dome kit is built to last. Its size ranges from 16 ft to a whopping 60 ft and it is covered by greenhouse vinyl. It also has two ventilation roll-ups with zippers and even five solar fans.
Event Domes
Events are usually held in rather lackluster tents and stuffy places. These event domes can remedy that particular problem. Pacific Domes provide general purpose event domes, projection theaters, and corporate tents.
Steady and Strong Playground Domes
Kids need a place to play. After all, children playing with each other socializes them and makes them better, well-adjusted people when they grow up. What better place to play than at a Playground Dome? Playground Domes have a removable weatherproof cover, so they can also function as a sort of shelter. Easily installed in hours, their galvanized steel frame can withstand fifteen children simultaneously.
Customers' reviews:
Pacific Domes has good feedback and supportive comments from their customers. The majority of reviews are positive. One customer named Lucky says: We have three of these magical structures. We use Them for many purposes on the ranch… Green houses to living quarters. Quick to set up and very functional.
Read our full Pacific Domes review or check out their official website.
Bonus recommendation:

Another geodesic dome connector DIY kit that extends creativity and endless possibilities are the Natural Frequency DIY Geodesic Dome Hub Connector Kit.
The kit only comes with the dome's hub connectors but the connectors are highly flexible to accommodate different materials of sticks, including but not limited to PVC pipes, bamboo or wooden sticks. To adjoint the ends together, you would simply need to ensure the ends of your struts are cut at a 90° angle (square cut) and you are good to make the ends connect to the hubs.
The kit boasts a high degree of design flexibility with no preset size. If you have larger-scale projects, you can simply upsize or expand your dome kit by purchasing multiple sets of the Natural Frequency DIY Geodesic Dome Kit or using longer struts.
This product is also made to be weather resistant against high wind and snow loads through its especially tough UV stabilised polymers. By purchasing this kit, you can expect to get 26 ABS Hub Connectors, fastening hardware and assembly instructions.
For this product, you should consider between two sizes being 1.25 inch or 2 inches. Although the kit is specifically advertised to accommodate PVC pipe, the brand has established that their hub connectors can also be fitted against struts and sticks if different materials as stated before.
Customers would delight in the various outdoor purposes this kit has to offer including greenhouses, shelters, coops or event domes. In addition, you will also be supported with a 1-year warranty against manufacturer defects.
When compared to the other items in the list, the offers a considerable wide diameter coverage at 16 inches diameter at a price range of $599.
The materials of construction are also considerably heavy compared to The Hubs Geodesic Dome Kit, making it substantial for tougher purposes. If you are looking for a flexible geodesic dome kit that can accommodate larger-scale projects at an affordable price, then this product is for you.
Conclusion
A geodesic dome kit is an excellent alternative to buildings that can take significant labour and cost in your backyard or any free space. The three options for kits outlined in this list will hopefully assist you in the decision to purchase the best kit suited for your needs and budget.
Remember, though, there are other significant criteria which have been touched in this article that can influence your purchase such as the size, ease of installation, level of weather resistance and materials of construction.